Home
Talk

2
933pages on
this wiki
Welcome to the BoBoiBoy Wiki
The Series shows about a little but strong and powerful Malaysian Boy who can control three elements Earth, Lightning and Wind and can seperate himself into three having each power and together with his friends Gopal, Yaya and Ying to defeat aliens for invading earth and stealing Cocoas. Watch BoBoiBoy Everyday on Disney Channel from: (Monday to Friday 6:30 am and 2:00 pm Mal/Phil).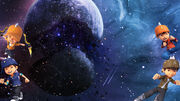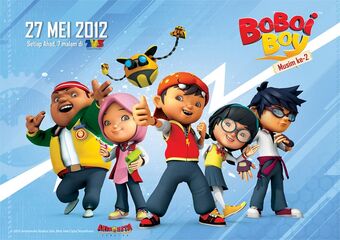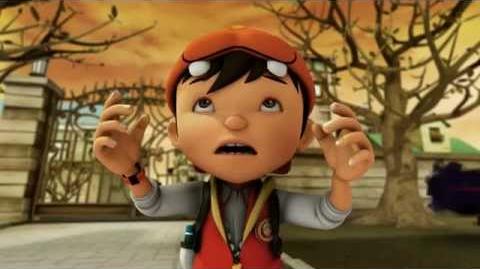 BoBoiBoy was sent to Rintis Island for the school holidays to see his Granddad. Upon the arrival of BoBoiBoy, An alien with a green square head named Adu Du with his friends Probe and Computer arrived in Earth because he realized that Earth has Cocoa which is extinct in his Planet Ata Tatiga 30,000 years ago. He had an idea to steal Granddad's cocoa since it has a high energy. Then BoBoiBoy and his friends met Ochobot who gave them power. To learn more, pls.enjoy this video.
Editing and Adding Pages on this Wiki
For all users that will edit this Wiki, this is the english version, so put english sentences but the Malaysian names of the characters can still be placed .
For the Malaysian version, please go to ms.boboiboy.wikia.com
For the Tagalog version, please go to tl.newboboiboy.wikia.com
About this Wiki
Boboiboy Wiki is not just an ordinary wiki, aside from characters and episodes, articles about some of the unforgettable scenes of the series can also be view like Kidnapping BoBoiBoy's Friends, BoBoiBoy Lightning Vs. Super Probe etc.
As of now, Boboiboy wiki is still growing, but then, we will try to make it beautiful so everything about the series, characters and songs can be see here soon!
Wanna upload multiple photos?
click here
Vote
Vote now for your favorite BoBoiBoy characters, episodes and Soundtracks
Facebook
Latest activity