Adu Du's Spaceship has lot of weapons, many of them are seen in Episodes 7 and 8.
Inside
Grinder
- used to kill
Gopal
but he turned it to Pizza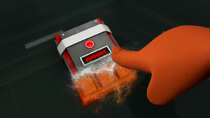 Bomb - used to scare Gopal but turned into Chocolate bar
Giant Fan : used to Suck and Cut things to pieces
Sleeping Gas : 3 guns that can be found in the Fire Exit
Squasher : used to squash BoBoiBoy and his friends but Yaya hold it off
Plasma Machine Gun : one of the weapons used to scare Gopal
Rocket Destroyer : one of the weapons used to scare Gopal.
Outside
Missiles: Missiles that is launched in the 4 rotating squares of the ship.
Red Rocket Missile: Big Missile used to kill Yaya but she used her Super Sonic Speed power to destroy it.
Others
Laser Beam
 : used to suck someone inside like
Yaya
and
Gopal
Ad blocker interference detected!
Wikia is a free-to-use site that makes money from advertising. We have a modified experience for viewers using ad blockers

Wikia is not accessible if you've made further modifications. Remove the custom ad blocker rule(s) and the page will load as expected.