"
I remember now uh, Ahmad Kassim!
"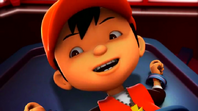 Ahmad Kassim is one of the names BoBoiBoy Lightning guess what is Adu Du's name, the others are Ago Go and Apak Pak. It also refers to Fang's unproper name, Ali Kassim. In the USA/Canada English version of the series, this name was known as "Abraham", named after the sixteenth president of the United States, Abraham Lincoln.
It is revealed that Ahmad Kassim is one of the fans of
BoBoiBoy
as mentioned by
Probe
.
Qoutes
BoBoiBoy Thunder:I remember now,Ahmad Kassim!
Ad blocker interference detected!
Wikia is a free-to-use site that makes money from advertising. We have a modified experience for viewers using ad blockers

Wikia is not accessible if you've made further modifications. Remove the custom ad blocker rule(s) and the page will load as expected.