The
Blue Robolabot
is a character in
BoBoiBoy
.
Overview
He is one of the Robolabots that Adu Du used during the Football Game.
In the game, he intentionally bumped and injured Ying which made Tok Aba replaced her.
Later, he joined with the Yellow Robolabot to make Probe Robolabolabolabolabot Super King.
Like Mukalakus and Petai, he doesn't have a voice performer.
Appearances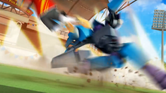 Quotes
Adu Du: Robolabots, come on out!
Ad blocker interference detected!
Wikia is a free-to-use site that makes money from advertising. We have a modified experience for viewers using ad blockers

Wikia is not accessible if you've made further modifications. Remove the custom ad blocker rule(s) and the page will load as expected.