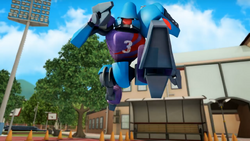 The Blue Robolabot is a character in BoBoiBoy.
Overview
He is one of the Robolabots that Adu Du used during the football game.
In the game, he intentionally bumped and injured Ying which made Tok Aba replaced her.
Later, he joined with the Yellow Robolabot to make Probe as Robolabolabolabolabot Super King.
Trivia
Gallery