BoBoiBoy's Father
Personal Information
Biological Information
Media
BoBoiBoy's Father is BoBoiBoy's unnamed father.
Biography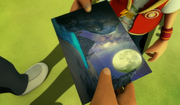 Not much is known about BoBoiBoy's father as he is never seen in the show, merely only referenced by BoBoiBoy on occasions. He and his wife consented to BoBoiBoy living away from them and with his grandfather. 
According to BoBoiBoy in Season 3, Episode 23, he works as an ambassador (presumably for Malaysia) and as a result, he is a very busy person. This leads to him and BoBoiBoy's mother unable to visit him during the carnival even for the Sunday. However, he sends a postcard in his and his wife's stead.
Personality
Although never seen or heard onscreen, due to him being an ambassador, he is presumed to be a very responsible person, having strong leadership skills (which BoBoiBoy inherits). He is said to be a very busy person and seems to take his work very seriously, though is shown to care very much for his son.
Even though he supposedly loves his son very much, he was willing to send his son to go live with Tok Aba, his relative (and BoBoiBoy's grandfather), meaning that he (along with his wife) might be too busy to look after him properly. He was willing to sacrifice being together so his son could live a much happier life in Rhintis Island.
He is also apparently aware of BoBoiBoy's supernatural powers, as well as his status as a superhero, and is worried for him, but are obviously proud of his achievements.
Trivia
BoBoiBoy's Father hasn't been specified to be Tok Aba's son or son-in-law. To this day it is unclear what relations he has to Tok Aba.