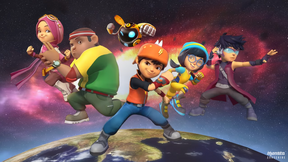 BoBoiBoy's Gang
(unofficial name) is a group of heroes led by BoBoiBoy since
the original series
.
Members
Main Group Members
Former Members
Adu Du - Joined temporarily in Season 3, after BoBoiBoy and his friends assisted the reconstruction of Probe, but left the group when BoBoiBoy accidently hurts his mother, Ibu Bu.
Probe - Joined along with Adu Du as a follower after he was repaired and left at the same time.
Affiliations
Gallery
Ad blocker interference detected!
Wikia is a free-to-use site that makes money from advertising. We have a modified experience for viewers using ad blockers

Wikia is not accessible if you've made further modifications. Remove the custom ad blocker rule(s) and the page will load as expected.