BoBoiBoy: Bounce & Blast is a game produced by Next Evolutions. This game is released in Google Play Store and App Store.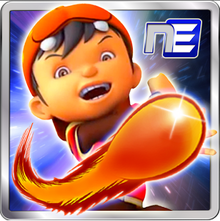 Official DescriptionBoBoiBoy is a Malaysian animated series produced by Animonsta Studios, centering on a boy who has superpowers and the ability to separate into three and he fight to protect the earth from alien that name Adudu threats who aim to conquer the Earth in the hunt for cocoa beans.
Description:
- Use various elemental powers of BoBoiBoy's to defeat multiple type of enemies from overrun his hometown, the Pulau Rintis.
-Fast paced arcade game play with various twist and challenges.
-Consists 3 Chapter with 30 level each chapter. Start with TOK ABA'S KOKOTIAM, second MICRO WORLD and last is ADUDU'S SPACESHIP.
-Have mini game by the end of each level which you can get the extra cocoa.
-Use different type of BoBoiBoy with their own strength and weakness to defeat enemies in each level.
-Challenge the toughest bosses from BoBoiBoy's animation series.
-Travel around various level with familiar background from the series.
-What are you waiting now!! Download and let's defect Adudu's and their gang.
How To Play
User must release the power first then bounce it to ensure all enemies are defeated.
Gallery
Ad blocker interference detected!
Wikia is a free-to-use site that makes money from advertising. We have a modified experience for viewers using ad blockers

Wikia is not accessible if you've made further modifications. Remove the custom ad blocker rule(s) and the page will load as expected.