BoBoiBoy Cyclone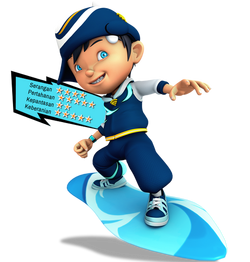 Personal Information
Alias(es)
BoBoiBoy Cyclone
Biological Information
Hair Color
Black (Original Series)
Dark Brown (BoBoiBoy Galaxy)
Media
BoBoiBoy Cyclone is the evolved elemental form of BoBoiBoy Wind after eating a lot of Yaya's biscuits containing Chemical X, making his emotions unstable.
Story
BoBoiBoy Wind accidentally got some fake milk with Chemical X which was made by Adu Du to use in making Yaya's biscuits. Because of eating plenty of contaminated biscuits, he got crazy, which strengthened his powers until he turns into BoBoiBoy Cyclone (Season 1, Episode 11). He was cured when Ochobot showed to him the last episode of a telenovela called "Red Roses" where Azroy finally sees his cat Sasha, because of the sad ending, he cried until he turned back to BoBoiBoy Wind.
He later appeared in Season 2, Episode 2 after BoBoiBoy Thunderstorm's transformation, but he was trapped by Fang's Shadow Hands, in which Gopal thought that he was defeated but he later transformed to BoBoiBoy Quake.
BoBoiBoy Cyclone is slated to appear in this series.
Appearance
Personality
Abilities
| | | |
| --- | --- | --- |
| Attack | | 4/5 |
| Defence | | 5/5 |
| Agility | | 2/5 |
| Courage | | 5/5 |
Gallery
Video
See Also