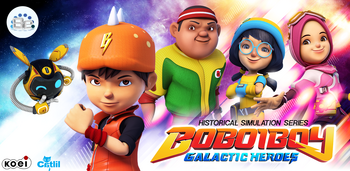 BoBoiBoy Galactic Heroes is a historical simulation game based from BoBoiBoy Galaxy. The game was developed by Catlil, published by 8 Elements and in association with Koei. This game was released in Google Play Store.
Description
BoBoiBoy Galactic Heroes is a casual action RPG mobile game for the popular 3D animated TV Series BoBoiBoy Galaxy which went live as Season 4 on November 25, 2016.
Fight with the grown up teen gang of BoBoiBoy and his friends to collect power sphera in the entire galaxy and beat villains and monsters on your way as many many hunters have been trying to relocate and capture the power spheres for their own gains.
To stop the power spheres from falling into the wrong hands, this RPG lets you play as young superhero BoBoiBoy and you first need to reunite your friends to form powerful teams to search and collect the power spheres from across the dangerous Universe. The Galaxy is your playground!
Are you hero enough to help BoBoiBoy and his friends to save the entire galaxy?
Features
Multi-language support including English, Japanese and Traditional Chinese
Casual action RPG mobile game
3D Characters in a 3D world by Unity Engine 5
5 planets to play on plus 1 final Boss planet
60 stages in 6 different areas to defeat multiple villains
Numerous Battle Modes:
Turn-based Battle
Active Time Battle (ATB)
Quick Time Event (QTE) special attacks
Autosave every end of the battle
Daily quests and Daily rewards available
Train & evolve Monsters to make your team undefeatable
Collect 5 special Hero Characters with leader abilities
Fight ini PVP with others around the world
Character Games
BoBoiBoy
BoBoiBoy Earth
BoBoiBoy Wind
BoBoiBoy Lightning
Yaya
Ying
Gopal
Fang
BoBoiBoy Fire (New Character)
BoBoiBoy Leaf (New Character)
Gallery
External Link
Ad blocker interference detected!
Wikia is a free-to-use site that makes money from advertising. We have a modified experience for viewers using ad blockers

Wikia is not accessible if you've made further modifications. Remove the custom ad blocker rule(s) and the page will load as expected.