BoBoiBoy Thunderstorm is the second potential evolved form from BoBoiBoy Lightning after getting angry at Adu Du and Probe for torturing him by exploding balloons.
Story
Season 1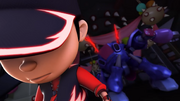 He evolved from BoBoiBoy Lightning after being tortured by 
Adu Du
, 
Probe
 and 
Computer
 by exploding balloons, his powers increased and transformed to Thunder but forgots himself as BoBoiBoy, soon, Adu Du and Probe tricked him that he is his best friends and even forced him to destroy his friends and otherselves so he can get Tok Aba's Secret Recipe, he was cured after Probe said "Yeah, awesome!".
Abilities
Ultimate Electrokinesis
Physical Appearance
His bodily appearance is the same as the other forms of BoBoiBoy's elemental personas, with having the same physique and cropped black hair. But unlike the others, BoBoiBoy Thunderstorm possesses scarlet eyes and is clad in mostly red and black. He wears his signature cap in a common style where the bill is at the front. The cap is fully black in color minus the three white 'horns' decorating the top, neon red lining adorning the rims of the bill, and his signature red lightning bolt insignia rests on the center of the cap. His vest that he zips halfway up is mostly black as well, with dark red linings on the hoodie, neon red jagged lightning-like patterns on either sides on the front. He wears a red shirt underneath the vest and its sleeves are 3/4 long with black cuffs. Fully black pants and shoes that are a mix of red and black to complete his attire.
Gallery
See Also
Ad blocker interference detected!
Wikia is a free-to-use site that makes money from advertising. We have a modified experience for viewers using ad blockers

Wikia is not accessible if you've made further modifications. Remove the custom ad blocker rule(s) and the page will load as expected.