BoBoiBoy Thunderstorm
Personal Information
Biological Information
Hair Color
Black (Original Series)
Dark Brown (BoBoiBoy Galaxy)
Media
BoBoiBoy Thunderstorm is the evolved elemental form of BoBoiBoy Lightning after being tortured by Adu Du and Probe. He is the first elemental form to evolve in the series. BoBoiBoy Thunderstorm will continue his appearance on BoBoiBoy Galaxy.
Story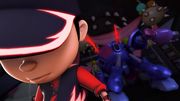 BoBoiBoy Thunderstorm first appears when BoBoiBoy Lightning is kidnapped by Adu Du and Probe. He was then tortured by them via exploding balloons, revealing that BoBoiBoy had globophobia.
Out of stress and fear, BoBoiBoy Lightning inadvertently transformed into BoBoiBoy Thunderstorm, but in the process, he completely forgets himself, a possible side effect from being split up for too long. Realizing that BoBoiBoy Thunderstorm had completely forgotten who he was and his sense of self, Adu Du tricks BoBoiBoy Thunderstorm into think that they were his friends.
He later attacks his true friends alongside Adu Du, even attacking his other two elemental forms, Wind and Earth. BoBoiBoy Thunderstorm absolute emancipated them, but as he is about to deal with the finishing blows, Probe triggers his memory after he says his catchphrase. As a result, BoBoiBoy Thunderstorm regains his memory and turns on Adu Du.
BoBoiBoy Thunderstorm finally made an appearance in the Teaser of Episode 14. As he returns in BoBoiBoy Galaxy
Appearance
His bodily appearance is the same as the other forms of BoBoiBoy's elemental personas, with having the same physique and cropped black hair. But unlike the others, BoBoiBoy Thunderstorm possesses scarlet eyes and is clad in mostly red and black. He wears his signature cap in a common style where the bill is at the front. The cap is fully black in color minus the three white 'horns' decorating the top, neon red lining adorning the rims of the bill, and his signature red lightning bolt insignia rests on the center of the cap. His vest that he zips halfway up is black as well, with dark red linings on the hoodie, neon red jagged lightning-like patterns on either sides on the front. He wears a red shirt underneath the vest and its sleeves are 3/4 long with black cuffs. Fully black pants and shoes that are a mix of red and black to complete his attire.
Personality
Due to being the evolved form of BoBoiBoy Lightning, technically a personification of BoBoiBoy's anger, BoBoiBoy Thunderstorm is just as or even more aggressive than Lightning is. He is shown to be ruthless and almost wrathful in combat and did not hesitate to hurt his friends when under the influence of Adu Du. However, he is still BoBoiBoy at heart and still retains some semblance of his original self.
Abilities
BoBoiBoy Thunderstorm's abilities are enhanced versions of BoBoiBoy Lightning's abilities.
Original Series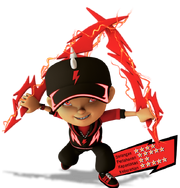 BoBoiBoy Galaxy
Thunder Blade (Pedang Halilintar) - A bladed weapon he can use to attack foes. This sword can separated become two swords to make attack incessantly.

Thunderstorm Vortex (Pusaran Halilintar) - He spins his Thunder Blade round and round, creating a vortex of lightning and then thrusts his target.
Thunder Thousand Punctures (Tusukan Seribu Halilintar) - He unleash hundred of swords to the enemy. Use to attack Jugglenaut in comic.
Thunder Thief (Belahan Halilintar) - He use his sword to divide his enemy. Use to attack Jugglenaut but it failed because the power start not stable.
Mega Thunder Strike (Sambaran Mega Halilintar) - He releasing a lightning bolt swiftly towards Jugglenaut, then split his sword into two blades to grab a burst.

Lightning Speed (Gerakan Kilat) - Used to move faster.
Trivia
Red electricity, which is the color of Thunderstorm's power, is nonexistent in real life. There is no way to replicate this in real life without a contained and controlled environment.
He is the first Evolved Form to be Transformed in the Original BoBoiBoy Series and in BoBoiBoy Galaxy.
Gallery
Video
See Also
Ad blocker interference detected!
Wikia is a free-to-use site that makes money from advertising. We have a modified experience for viewers using ad blockers

Wikia is not accessible if you've made further modifications. Remove the custom ad blocker rule(s) and the page will load as expected.