BoBot is an unreleased character in BoBoiBoy.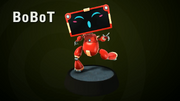 Appearance
He is a red robot and a rectangular screen head which is similar to Computer (one of Adu Du's friends).
Trivia
He only appears in the Sneak Peek for BoBoiBoy.
It's unknown why he's not present in the series, but his character was likely replaced by Ochobot, Probe or BoBoiBot, who are all robots too.
It's possible that he was planned to be Adu Du's sidekick.
It is unknown if Ochobot knows him or not.
Videos