BoBoiBoy Cyclone is BoBoiBoy Wind's evolved form that was achieved after he ate plenty of Yaya's Biscuits containing Liquid X, making his emotions uncontrollable.
Abilities
1. Protecting Cyclone (Perisai Taufan) - Used to move himself in a Cyclone like ball. It can protect him from his enemies.
2. Cyclone Stormball (Bola Taufan) - Used to defend himself from an enemy, like the Lightning Balls of BoBoiBoy Lightning, only it's bigger and rotating like a Washing Machine.
3. Cyclone Incredible Drill Punch (Tumbukan Gerudi Taufan) - He can cover his hands with a rotating drill.
4. Cyclone Boomerang (Cakera Udara) - Power boomerangs use to attack big robots like Mukalakus, also known as the "Wind Power".
5. Cyclone Hoverboard (Hoverboard Taufan) - His new kit, helps him to fly higher and faster.
6. Cyclone Attack (Gerudi Taufan) - He used it when he is trapped by BoBoiBoy Earth.
7. Storm Dodge (Pusaran Taufan) - Use to threw something faster by 40% more.
8. Mega Cyclone Drill (Gerudi Mega Taufan) - The mega version of Cyclone Drill, used to defeat Petai along with Mega Lightning Sword.
9. Vortex Wind Swirl (Pusaran Angin Kencang) - used to attack Petai and to save Ochobot.
10. Sand Storm - used to defeat Petai, created with particles of land from BoBoiBoy Earthquake.
11. Cyclone Carrier (Deruan Angin Vertikal) - used to carry him,BBB Lightning, Earthquake and the Giga.
12. Hurricane Storm (Ribut Taufan) - He used it to avoid the Balls of Lightning of BoBoiBoy Lightning  when attacking him and BoBoiBoy Earth.
Other Powers
History
It started when
BoBoiBoy Wind
mistakenly got some fake milk with
Liquid X
which was made by
Adu Du
to use in making
Yaya's Biscuits
, because of eating plenty of contaminated biscuits, he got crazy, which made his powers became stronger until he turns into Cyclone (
Episode 22
).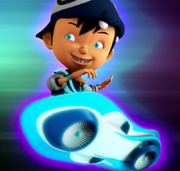 Cure
He was cured when Ochobot showed to him the last episode of the Telenovela called "Red Roses" where Azroy finally sees his cat Sasha, because the ending is sad, he cried until he turned back to BoBoiBoy Wind.
He next appeared in Episode 30 after BoBoiBoy Lightning  changed his powers, but he was trapped by Fang's Shadow Hands which Gopal thought that he is already defeated but he later transformed to BoBoiBoy Earthquake.
Appearance in another media
BoBoiBoy Cyclone appears in the BoBoiBoy series' second game, Adu Du Attacks!. He appears when the player shoots the cyclone emblem.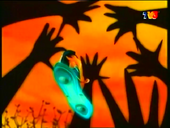 Video
International Names
Alternate Names
Appearances
Votes
Vote now for your favorite characters
BoBoiBoy Cyclone is included!
Gallery
See Also