Bora Ra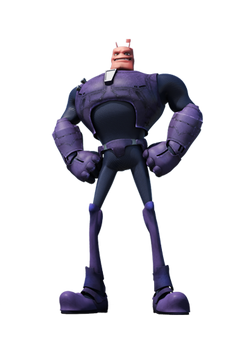 Personal Information
Biological Information
Media
Bora Ra is an alien from Ata Ta Tiga Planet. He is the leader of The Tengkotak gang and he makes his debut in BoBoiBoy: The Movie as the main antagonist.
Appearance
Unlike most cube-headed aliens, his skin is red. He is a very tall and buff alien, even taller than Ejo Jo. He wears a black and purple-ish battle suit.
Personality
He was shown as arrogant and ambitious evil alien.
Trivia
Unlike most Ata Ta Tiga aliens, he has red skin instead of green.
Bora Ra only has one ear instead of two. He probably had a battle between him and someone in the past before the movie. (possibly Captain Kaizo due to a fact from the official BoBoiBoy Magazine)
Bora Ra bears some similarities to another one of BoBoiBoy's enemies, Ejo Jo:
Bora Ra is arguably the most cataclysmic villain in the series as aside willing to destroy BoBoiBoy and his friends, but has responsible for conquering planets and having reputation so notorious that Ejo Jo was pale in comparison.
As mentioned in the fanmails, Bora Ra captures Power Spheres for his own trophy collection and gives them to The Emperor so he can conquer many planets across the galaxy.
Gallery
Ad blocker interference detected!
Wikia is a free-to-use site that makes money from advertising. We have a modified experience for viewers using ad blockers

Wikia is not accessible if you've made further modifications. Remove the custom ad blocker rule(s) and the page will load as expected.