Child Passenger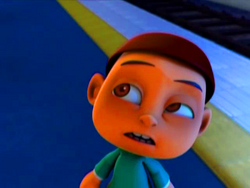 Personal Information
Biological Information
Media
The Child Passenger is a minor character in BoBoiBoy.
Story
He made a small appearance in Season 1, Episode 1, where he accidently 'swaps' Grandfathers with BoBoiBoy. He hugs Tok Aba while BoBoiBoy hugs Mr. Mat.
Trivia
Although he made several appearances, Child Passenger has not Officially been given a name, but is referred to as in the end credits, alongside Adult Passenger.
Gallery
Ad blocker interference detected!
Wikia is a free-to-use site that makes money from advertising. We have a modified experience for viewers using ad blockers

Wikia is not accessible if you've made further modifications. Remove the custom ad blocker rule(s) and the page will load as expected.