The Cyclone Hoverboard (Hoverboard Taufan)  is BoBoiBoy Cyclone  's belonging, he uses it to fly higher and faster.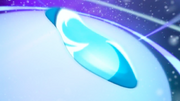 Informations
He is the first BoBoiBoy which has new features after true potential was unleashed, the second is BoBoiBoy Earthquake which has Giga.
The Cyclone Hoverboard has been destroyed a few times.
Gallery
Ad blocker interference detected!
Wikia is a free-to-use site that makes money from advertising. We have a modified experience for viewers using ad blockers

Wikia is not accessible if you've made further modifications. Remove the custom ad blocker rule(s) and the page will load as expected.