BoBoiBoy Earthquake
can project a power style called
Earth Opener
(
Bukaan Tanah
).
Season 2 Finale
When Petai was released from Ejo Jo's Spaceship , BoBoiBoy Earthquake opened the land to make a hole where Petai landed, after that, BBB covered the hole and created the Earth Golem.
Informations
This is almost the same as the Land Hole but circular.
In the Disney Channel English Version, it was known as the Earth Crack.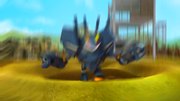 Ad blocker interference detected!
Wikia is a free-to-use site that makes money from advertising. We have a modified experience for viewers using ad blockers

Wikia is not accessible if you've made further modifications. Remove the custom ad blocker rule(s) and the page will load as expected.