Papa Zola
has an 
Enlargement Belt
that he used to make himself Super Gigantic
.
History
According to Papa Zola, the Belt belongs to his father, later it was given to him.
Symbols
P - The Letter P symbolizes the Justice of the Truth as a protector against the enemy.
(Actually the P really means Papa.)
Happenings
When Papa Zola passed away (in the Sleeping Monster's dream), Gopal and BoBoiBoy used it to defeat the Sleeping Monster.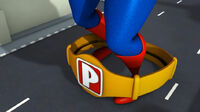 Informations
He always wears this belt as a symbol that he is the hero of the truth.
Appearances
Ad blocker interference detected!
Wikia is a free-to-use site that makes money from advertising. We have a modified experience for viewers using ad blockers

Wikia is not accessible if you've made further modifications. Remove the custom ad blocker rule(s) and the page will load as expected.