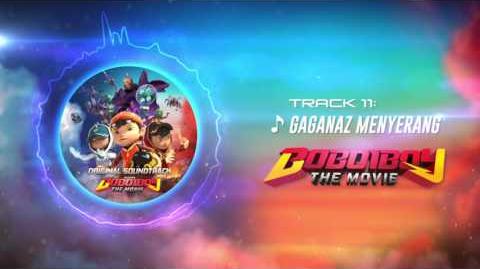 Gaganaz Menyerang (Gaganaz Attacks) is the 11th track in BoBoiBoy: The Movie. It is played when BoBoiBoy and his friends try to escape from the mutated Gaga Naz. When the machines are accidentally activated, Yaya and Ying work together to save BoBoiBoy, Ochobot, Gopal and Fang from being captured by Gaga Naz. After the boys manage to dodge all the machines, Gaga Naz shoots laser beams, which destroy the machines and platform. He sees BoBoiBoy's Cap and thinks that he and his friends are dead.
Ad blocker interference detected!
Wikia is a free-to-use site that makes money from advertising. We have a modified experience for viewers using ad blockers

Wikia is not accessible if you've made further modifications. Remove the custom ad blocker rule(s) and the page will load as expected.