BoBoiBoy Earth
can project a project style called
Land Hole
(
Tanah Gabung
).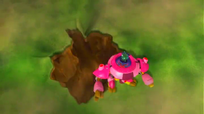 Using the Power of Earthquake, it made an giant hole, with the help of BoBoiBoy Wind, Adu Du and Super Auntie Probe fell underground.
Information
BoBoiBoy Earthquake have the upgraded version call Earth Opener.
Ad blocker interference detected!
Wikia is a free-to-use site that makes money from advertising. We have a modified experience for viewers using ad blockers

Wikia is not accessible if you've made further modifications. Remove the custom ad blocker rule(s) and the page will load as expected.