Lieutenant Lahap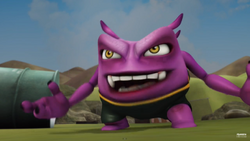 Personal Information
Alias(es)
Lahap
Froggy Lahap (
Gopal
)
Biological Information
Media
Voiced by
Mohamad Shamir Supaat
Lieutenant Lahap, otherwise known as Lahap is the new character of the series. He made his first debut on New and Old Enemies.
Physical Appearance
Lahap is a purple alien with yellow eyes and long arms. He also has two horns on each side of head and black pants with a yellow outline. Lahap also has a large mouth and tongue. His legs are rather stubby.
Personality
Not much known about him. But in general and as Captain Kaizo's partner, right-hand and also lieutenant, Lahap is an alien who is extremely loyal towards him. This is evident when he gets angry at Fang for betraying him or shown worried to see Kaizo defeat by BoBoiBoy (Character) and Fang. Although, he sometimes disagree with his decision, such as when Kaizo order to him to back the spaceship, Lahap shown his not amused expression at him due at the first time Kaizo wanted Lahap to eliminate BoBoiBoy and the others by using a toxic.
Abilities
The first ability he has shown to have was the ability to 'eat projectiles (beams, rays, etc.)' and shoot them back at the enemy. He has done this with the five PETAI who were with Ejo Jo in Season 3, Episode 24. In Season 3, Episode 25, it's shown that he can eat anything that is toxic and shoot them in forms of toxic plasma beams.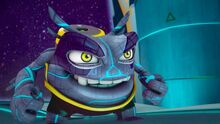 His second ability is that he can turn his body into any material that he eats, as shown in Season 3, Episode 26 when he eats the pieces of the spaceship's metal platform to defend himself from Yaya and Ying's attacks. Gopal tricks him into eating vegetables and he is defeated by Yaya and Ying. His body can become strong, weak, tough, soft, etc. depending on the material he eats. For example: the spaceship's metal platform makes his body becomes hard and tough while the vegetables make his body becomes soft and weak.
Trivia
His name means 'Gluttonous' in Malay and English. This makes sense since he can 'eat anything'.
He is the second character in the series who did not faint after eating Yaya's biscuits and loves Yaya's biscuits in Season 3, Episode 25. The first is Probe in Season 1, Episode 4.

Homever, he can still fainted as shown as his first reaction was immediately gag. He like this because Yaya's biscuit is making him become powerful as shown that his gag shot.
Gallery
Screenshots
BoBoiBoy Season 3
BoBoiBoy Galaxy