Lightning Kris (Keris Petir) one of the power styles that BoBoiBoy can project.
Abilities
BoBoiBoy can project and throw it to his foes and shock or even burn them. It can be also used to defend himself when the enemy is attacking him, by simply throwing it to them, as it was shown in Season 1, Episode 9.
History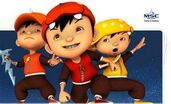 In the website of Animonsta Studios, the original color is gray instead of yellow, sadly it was removed when it was updated.
A red curved version can also be created by BoBoiBoy Thunderstorm which has some differences with the Thunder Blade, like the Lightning Bolt, he only uses it to throw it to an enemy or struck it like to Super Probe and BoBoiBoy Cyclone, to understand it the edge of the Red Lightning Kris is pointy while the other one is shape like a blade.
Disney Channel version
In the Disney Channel English version, the Lightning Kris is is known as Lightning Sword and in the subbed version as Thunder Dagger.
Informations
In the YouTube English version of the series, it was called Lightning Bolt.
When the Lightning Kris was upgraded, we notice that BoBoiBoy can hold it for a long time, even when it was already used in attacking.
In a commercial during Happy Eid-ul-Fitri 2011, BoBoiBoy can use a Thunder Kris to make a fire, the upgraded version can also be used but this one needs to be throw to make a fire.
The Lightning Kris gets a new design in BoBoiBoy Galaxy.
Weakness
Even though BoBoiBoy can hold the Lightning Kris as long as he wants with his hands, his other body parts are vulnerable to the weapon.
The Sleeping Monster is the only character invulnerable against it, unless upgraded to Thunderstorm.
Gallery
Ad blocker interference detected!
Wikia is a free-to-use site that makes money from advertising. We have a modified experience for viewers using ad blockers

Wikia is not accessible if you've made further modifications. Remove the custom ad blocker rule(s) and the page will load as expected.