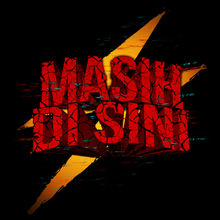 Masih Di Sini (Until Forever) is a theme song in BoBoiBoy: The Movie. It is played during the scene when BoBoiBoy and his friends, including Adu Du and Probe are chased by Kurita, a giant squid monster sent by the Tengkotak. The song is performed by Malaysian pop rock group band Bunkface!. Its instrumental version is the 7th track in BoBoiBoy The Movie OST. Its official English Version is revealed in BoBoiBoy: The Movie Disney Channel Advertisement and during the opening of MAPS Theme Park, however, the official full version is yet to be released.
This song was first chosen to be used as the theme song for BoBoiBoy Galaxy before "Dunia Baru" was created. [1]
Lyrics
Jangan mudah menyerah
Bangkit semula
Terbang menuju awan
Kau dan aku

Pecut pantas jangan lemas
Pecut pantas jangan lemas

[Chorus:]
Bersama kita berjuang
Melangkah ke depan
Bersama kita tentukan
Masa hadapan
Dari mimpi hingga realiti oooh
Dari mimpi hingga realiti
Kita masih di sini!
Masih di sini!

Masa sudah pun tiba
Panca kuasa
Engkau tetap lagenda
Api kita

Pecut pantas jangan lemas
Pecut pantas jangan lemas

[Chorus]
Kita lalu bersama
Sejarah yang kan kita bina
Kau dan aku selamanya!

[Chorus]
Videos
See Also
Ad blocker interference detected!
Wikia is a free-to-use site that makes money from advertising. We have a modified experience for viewers using ad blockers

Wikia is not accessible if you've made further modifications. Remove the custom ad blocker rule(s) and the page will load as expected.