Mr.Biscuit
is a minor and a imaginary character in
BoBoiBoy.
Overview
Mr.Biscuit is a imaginary and a minor character in Season 1, Episode 11 who appeared in a TV Commercial for World Biscuits Day which surprises Gopal, BoBoiBoy and Ying because of Yaya's Horrible Biscuits.
Quotes
Great discount! Great discount!
Discount is up to 90%
It's only available in Atan's Department Store!
You don't know how to celebrate World Biscuits Day?
Don't worry, I'm Mr.Biscuit!
Informations
Gallery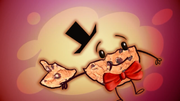 Ad blocker interference detected!
Wikia is a free-to-use site that makes money from advertising. We have a modified experience for viewers using ad blockers

Wikia is not accessible if you've made further modifications. Remove the custom ad blocker rule(s) and the page will load as expected.