Mr. Mat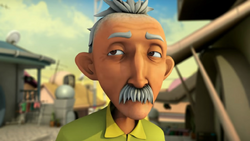 Personal Information
Alias(es)
Mr. Burger
Bugerman
Occupation
Burgerriak Employee
Biological Information
Media
Mr. Mat, s a character in BoBoiBoy and BoBoiBoy Galaxy. he is a Burgerriak Employee.
Story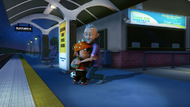 When BoBoiBoy was about to hug Tok Aba out of excitement, he accidentally hugged the Burgerman instead which made Tok Aba quite upset.
Ying has ordered many Burgers and talked so fast the Burgerman almost didn't record what is Ying is ordering because he broke his pencil. He said the total is 29 Ringgit and 95 Cents.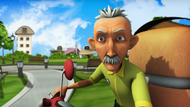 BoBoiBoy Lightning was forced to deliver some cocoa to Mrs.Yah because he doesn't know the exact location he ask the Burgerman to deliver it.
The Burgerman passed by Tok Aba's House. When he saw Tok Aba and Ochobot playing the video game, he walked away. He says "times had changed".
He ate one of Yaya's Biscuits that BoBoiBoy Wind gave to him, he also becomes crazy and driving his motorcycle left and right.
He made a cameo appearance when Gopal is walking in a slow motion to say goodbye to BoBoiBoy.
He appeared as a customer in Tok Aba's Cocoa Shop. Supporting Mr. Kumar's story, he also said that there is a Haunted House in Rintis Island, Tok Aba doesn't believe him, but it was proven by Mr.Kumar.
He was going fishing when Floating Island rose, he explained the incidents to others such as Papa Zola, Mr. Kumar and Uncle Yim but they did not believe him.
Appearance
TBA
Personality
TBA
Trivia
He was credited as Burgerman in Season 1 and Pakcik Burger (Mr. Burger) in Season 2.
Ad blocker interference detected!
Wikia is a free-to-use site that makes money from advertising. We have a modified experience for viewers using ad blockers

Wikia is not accessible if you've made further modifications. Remove the custom ad blocker rule(s) and the page will load as expected.