Mrs. Wawa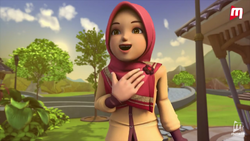 Personal Information
Biological Information
Media
Voiced by
Meldanovita Umar
Mrs. Wawa is Yaya's mother.
Story
Season 1
Although she never appeared in the series, his name was first mentioned in Season 1, Episode 5 when BoBoiBoy Lightning was told by Tok Aba to help him send the cocoa ordered by Mrs. Yah/Wawa, but he mistakenly went to Mr. Mat's house despite carrying map with him. Then, Mrs. Mat helped BoBoiBoy Lightning send her to Mrs. Yah/Wawa's house.
In Season 1, Episode 7, Tok Aba talks with Mrs. Yah/Wawa by phone to allow Yaya to play video games at her home. Tok Aba and Mrs. Yah / Wawa both agree that it is not good to play video games long ago because it can cause the kids not to learn and can spoil the vision. Due to their goal of saving BoBoiBoy and Gopal which included video games, Mrs. Yah/Wawa allowed Yaya to play video games, but only fifteen minutes.
BoBoiBoy Galaxy
She first actually appeared in Episode 16. Together with Aunty Yang and Mr. Kumar, they waiting their children's arrival in Tok Aba's Cocoa Shop.
Trivia
Both of Mrs. Wawa and Aunty Yang are close friends but very competitive at the same time, just like their daughters.
Like her daughter, she was also known for making horrible biscuits and gets mad when anyone said her biscuits are horrible.
Ad blocker interference detected!
Wikia is a free-to-use site that makes money from advertising. We have a modified experience for viewers using ad blockers

Wikia is not accessible if you've made further modifications. Remove the custom ad blocker rule(s) and the page will load as expected.