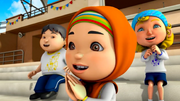 Nana is one of the students of Rintis Island Primary School.
Appearance
She is taller than Amy, and almost at the height of Yaya. She is a fair-skined, dark brown and round eyes. She's often seen in a uniform which is white long sleeved blouse, yellow vest, a colorful band under her orange hijab.
Informations
Like her other classmates, she is also friendly towards BoBoiBoy and his friends but except for Fang.
Like Iwan, she's also one of the most silent student in the class. She rarely talks.
She also cried when BoBoiBoy was defeated by Ejo Jo in Season 3, Episode 1.
Gallery
Ad blocker interference detected!
Wikia is a free-to-use site that makes money from advertising. We have a modified experience for viewers using ad blockers

Wikia is not accessible if you've made further modifications. Remove the custom ad blocker rule(s) and the page will load as expected.