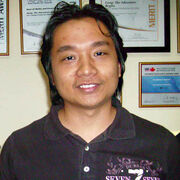 Mohd. Nizam Bin Abdul Razak (birth August 14, 1983) is the Season 1 Director of the Series.
He is one of the people who worked Upin and Ipin, along with Kee Yong Pin, Safwan Karim and Anas Abdul Aziz, his most well known role is being the Director of the Movie "Geng the Adventure Begins". In 2009, they left Les Copaque to establish Animonsta Studios.
He performed the voices the characters, Papa Zola, Bago Go, Wak Baga Ga and the Burgerman in both Bahasa Malaysia and English Versions.
Aside from being the director, he is also one of the makers of the story of each episodes, editor of the audio and the Storyboard Artist.
He was replaced as the director of each episode by Yap Ee Jean and Dzubir Bin Mohammed Zakaria in Season 2.
He is the director for BoBoiBoy: The Movie.
Characters Voiced
Video
Website
Ad blocker interference detected!
Wikia is a free-to-use site that makes money from advertising. We have a modified experience for viewers using ad blockers

Wikia is not accessible if you've made further modifications. Remove the custom ad blocker rule(s) and the page will load as expected.