The Old Lady (Mackik Kuih) is a minor character in BoBoiBoy.
Roles in the Series
Episode 2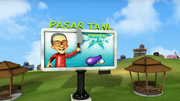 She appeared on a moving billboard holding a knife and cutting an eggplant which scared Probe when he steal some Cocoa because his color is Purple like an eggplant.
She was calling for help because she can't sell her desserts so Yaya help her. But Ochobot thought that the case is a serious problem.
Quotes
Old Lady: Help me! Help me!
Yaya: Why, What's wrong?
Old Lady: Oh, help me please. I can't sell all my desserts, pity me uncle!
Informations
This is the first character to be voiced by Ezdiani Ahmad Fawzi, the second is the Canteen Lady .

When her mouth is seen closely in 

Episode 4

, her middle tooth is color Gold. She might not having a good care to her tooth because of eating desserts as she mentioned.