Onion Monster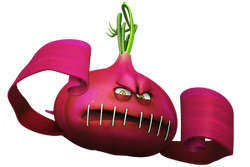 Personal Information
Biological Information
Media
Voiced by
To be announced...
The Onion Monster (Raksasa Bawang) is a monster that created by Adu Du. Adu Du created Onion Monster to make BoBoiBoy cried and collect a BoBoiBoy's tear to activated BoBoiBot. Like his name, he was a onion that Adu Du inserted to a machine and created Onion Monster.
Appearance
See Also
Ad blocker interference detected!
Wikia is a free-to-use site that makes money from advertising. We have a modified experience for viewers using ad blockers

Wikia is not accessible if you've made further modifications. Remove the custom ad blocker rule(s) and the page will load as expected.