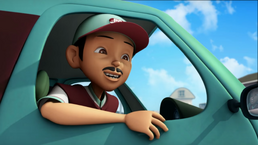 The
Postman
is a minor character in
BoBoiBoy
.
Story
When BoBoiBoy Wind was ordered to deliver some Cocoa to Ying's Grandma, he made a wrong direction and went to the Rintis Island Post Office instead. Because of that, the postman help him find Ying's Grandma's House. Season 1, Episode 11
He was seen very upset because the tires of his mail delivery van is flat which caughts Yaya's attention when finding BoBoiBoy Wind.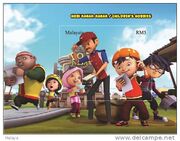 While
Gopal
was walking in slow motion, he made a cameo appearance.
Trivia
In Season 1, Episode 11, it was seen that he treats his Postmail Van as his son.
He also appeared in one of BoBoiBoy Stamps.
Gallery
Ad blocker interference detected!
Wikia is a free-to-use site that makes money from advertising. We have a modified experience for viewers using ad blockers

Wikia is not accessible if you've made further modifications. Remove the custom ad blocker rule(s) and the page will load as expected.