Probe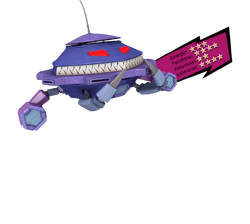 Personal Information
Status
Alive
Deceased (briefly)
Biological Information
Family
Ata Ta Tiga scientists (Creator)
Media
                 A.R. Probe, nicknamed Probe, is a character in BoBoiBoy.
Story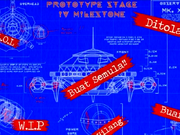 According to the comic called "
Probe and Adu Du
" (which also appeared in
Season 2, Episode 10
), Probe was built by scientists on Planet
Ata Ta Tiga
in the year 124XD (Ata Ta Tiga time). When he was about to be activated, one of the scientists accidentally spilled water onto him, that caused some unfortunate problems. Even though this triggered Probe's transformation into Super Probe for the first time, it also caused him to malfunction giving the scientist no choice but to destroy him. 
Combat Robot Probe
crashed in the middle of nowhere, at the same time a young
Adu Du
found the crashed Probe somewhere else, crying for help, Adu Du knew that Probe can be food container, because of his pitiness, Adu Du take Probe to his
Spaceship
and rebuilt him in his 
Laboratory
but he didn't realize that Probe can react crazy especially when he is activated again using Pipe Water (
Season 1, Episode 10
).
Not so very long ago, Probe accidentally fell inside a water tank which is the reason why he is quite insane (Season 2, Episode 2). When Probe and Computer commits a mistake, Adu Du's punishment for them is for him to throw to them his mug. In the end of Season 2, Episode 10, Adu Du beat him up as a punishment for tricking him about the arrival of Ejo Jo.
With the arrival of Ejo Jo and PETAI in Rintis Island, PETAI attacked Probe as ordered by Ejo Jo. PETAI attacked him and left him in a serious condition, even in his Super Probe form. Afterwards, Probe died in Season 2, Episode 10. Most of the students who saw him die also cried.
However he was able to come back to life in
Season 3, Episode 4
after Adu Du used the converter he bought from
Bago Go
to revive him. In the next episode, he defended Adu Du and defeated the
Giant Cocoa
.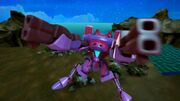 However he completely lost his memory, but Adu Du manages to return it by hitting Probe with a mug. Finally they were reunited.
In Season 3, Episode 6, Wak Baga Ga treated Probe by doing hypnosis and applying medicine but the actual problem is the unplugged wires on the Probe's hood so Baga Ga plugs it before leaving and his memory is restored.
In Season 3, Episode 18, Probe possibly was perfidious from Adu Du because Probe was too jealous to new Adu Du's robot, BoBoiBot. When he discovers water was BoBoiBot's weakness, he went to BoBoiBoy and told him to achieve that power to defeat BoBoiBot so he can once again be Adu Du's best robot. Despite Adu Du found out that Probe helped BoBoiBoy to defeat BoBoiBot in Season 3, Episode 19, he forgives Probe for saving him from being drowned by BoBoiBot Water in Season 3, Episode 20.
Personality
He seems to be extremely goofy, fun and eccentric. He was also very tricky, as seen when he disguised as Auntie Saodah in order to trick BoBoiBoy and his friends. Probe is also known to be clumsy. Despite this, Probe is very loyal to Adu Du and will do anything for him. When he temporarily died, Adu Du showed his affection for him and even mourns after his death. When Probe was revived, the two reunite happily.
Though Probe now has become more powerful since modifications that Adu Du done on his damaged body in the attempt to revive him (even goes so far by tried to use salvaged PETAI parts on him), it's apparent that he would have bad memories about his defeat against Ejo Jo's first PETAI and Adu Du mourning his death. Upon realizing that Ejo Jo has returned for revenge, Probe was traumatized with his previous death, and immediately agreed when Adu Du schemed the plan to call the truce with BoBoiBoy and his friends for facing the said threat.
Trivia
He was activated with pipe water.
In the second season, it was revealed that his full name was "A.R. Probe".
He have collection of horror books and reads them, despite his boss's disapproval.
He was the first character to die at some point in the series, the second being PETAI in the next episode.

However this cannot count for a full death, because Probe was revived in Season 3, marking PETAI as the first character in the series to completely die.
With this, Probe become the first character that briefly dies over the course of series, as he is preceded by Ochobot.

In episode 2 of BoBoiBoy Galaxy, Probe has a car mode and upgraded form of mega mode to mecha mode.
In terms of production date, Probe came in later than Ochobot.
Gallery
Videos
See Also
Ad blocker interference detected!
Wikia is a free-to-use site that makes money from advertising. We have a modified experience for viewers using ad blockers

Wikia is not accessible if you've made further modifications. Remove the custom ad blocker rule(s) and the page will load as expected.