Unlike his boss
Adu Du
,
Computer
is very friendly towards
Probe
but sometimes he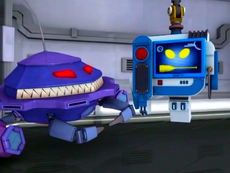 also likes to hurt him like slapping.
Their friendship possibly starts not a very long time since Adu Du was still living in Ata Tatiga, they both joined him to search Cocoa Power on Earth.
She also helped Probe in anwering BoBoiBoy's Fan Mails in a nice way when Adu Du told them to be rude (Episode 19, Episode 20).
There isn't much of reaction seen in Computer when Probe was dead.