Rintis Island Primary School
(Sekolah Rendah Pulau Rintis) is a school in
Rintis Island
.
Overview
This is the school where Ying, Yaya, Gopal, Fang, Iwan and BoBoiBoy and the rest of their school mates studies. Yaya is the school president. Ying is the school vice president.
Students
Yaya (5th Grade President)
Ying (5th Grade Vice President)
Gopal (Assistant Monitor)
Outside 5th Grade
(both unnamed students appeared in Season 2, Episodes 1, 2 and 12)
Staffs
Teacher Timi - English Teacher
Teacher Papa Zola - Mathematics and P.E. teacher and also a Football referee
Unnamed Principal (female)
Gardener (Pak Cik Ali from Detektif Yaya Book #4)
Lady Guard
Puan Anne (From Detektif Yaya Book #4)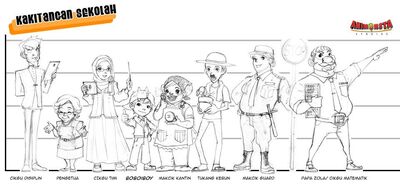 Facilities
Canteen - like other schools, there is also a canteen.
Rules
So far the known rules is "not allowed to bring camera to school"(Episode 29) but Gopal disobeyed it.
"On time means late" is also a rule in the school (Episode 31).
In the staff room, there are warning signs that said "To the students, no entry" (Episode 31).
Destruction
When Gopal though that PETAI will attack BoBoiBoy and the rest after capturing Ochobot, he suddenly drilled underground which causes to shake above and destroyed the school building, the shaking was only stopped by BoBoiBoy Quake.
Mistakes
In the Season 2, Episode 12, the school was damaged by PETAI. But in some What Yaya Says episodes, the school is looking good and not damaged at all.

This might hint that those episodes were created before the destruction.
Ad blocker interference detected!
Wikia is a free-to-use site that makes money from advertising. We have a modified experience for viewers using ad blockers

Wikia is not accessible if you've made further modifications. Remove the custom ad blocker rule(s) and the page will load as expected.