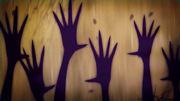 Shadow Hands
 (
Jari Bayang
) is one of
Fang
's shadow powers.
Overvies
As the name implies, Fang would constructed shadowy arms that would pursue the target, and also molds into 3 dimensional form as arms out of blackmass, which not only surprising the target, but also allowing them to reach airborne targets.
However, known drawbacks of this power is the shadow hands can be more easily predicted in sunlight and bright areas than in areas with dim lightings.
He used it to trap BoBoiBoy Cyclone (Season 2, Episode 2), Crazy Cat (Season 2, Episode 6), and P.E.T.A.I.'s hands but failed (Season 2, Episode 12). In Season 3, Episode 1, it was also used by Ejo Jo to trapped BoBoiBoy and his friends after he steals Fang's power watch.
In the series finale, they are upgraded to the "Shadow Arms (Tangan Bayang)" to push the Energy Wall.
In BoBoiBoy Galaxy Episode 11, Fang uses "Shadow Hands (Tangan Bayang)" to attack BoBoiBoy Wind and later to block BoBoiBoy Fire's Flaming Punch.
Gallery
Ad blocker interference detected!
Wikia is a free-to-use site that makes money from advertising. We have a modified experience for viewers using ad blockers

Wikia is not accessible if you've made further modifications. Remove the custom ad blocker rule(s) and the page will load as expected.