The Super Strength or called Enhanced Strength is one of
Yaya
's Powers.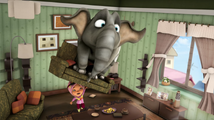 Overview
She got this power in Episode 3 along with Ying and Gopal.
capabilities
Users have incredible ability to defy weight limitations of the member of their race, but not completely break them. Dense, lengthy, or overweight items are easy to move and simple to use in nearly any manner. Users can crush, lift, throw, or catch items of great weight.
application
Samples
Ad blocker interference detected!
Wikia is a free-to-use site that makes money from advertising. We have a modified experience for viewers using ad blockers

Wikia is not accessible if you've made further modifications. Remove the custom ad blocker rule(s) and the page will load as expected.