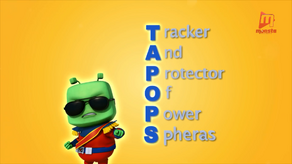 TAPOPS (Tracker and Protector of Power Spheras) is a group dedicated to find a that led and created by Koko Ci to find and protect the power spheres that scattered around the galaxy.
Description
TAPOPS is an intergalatic organization led by Koko Ci to help the many power sphere that have been scattered across the galaxy safe saction in their care. It is unknown when TAPOPS was first formed.
They were formerly based in a space station, posing as a mere laundromat as their cover. They use these laundromats to communicate with other members without suspicion. In addition to the main base, they are also many other members sanctioned in different parts of the galaxy with different missions.
After their main station was destroyed in the battle against Captain Vargoba, they moved to the Tempur-A Headquarters to recover.
List of Power Spheres
TAPOPS currently houses many Power Spheres in their care. Most of the remain in an inactive state while being protected. Only Ochobot, Bellbot, and Motobot do additional work as members of TAPOPS. Following the TAPOPS Station destruction in Episode 24, they have all been transferred to TEMPUR-A Headquarters.
List of Members
Commanders
Admirals
Lance Corporals
Captains
Lieutenants
Cadets
Engineers
Power Spheres
Other Members
Affiliations
Affiliations that the TAPOPS agency has with other people and groups.
Allies
Wanted Criminals
Trivia
Gallery
Videos