This Ghost scared
Adu Du
in
Episode 28
.
Overview
When Adu Du is looking for the differences in the picture of Tok Aba and BoBoiBoy's Cocoa Shop that Computer showed, it was suddenly changed into a funny ghost which scared him. He thought that it was just a human technology but Computer said that they are real.
Videos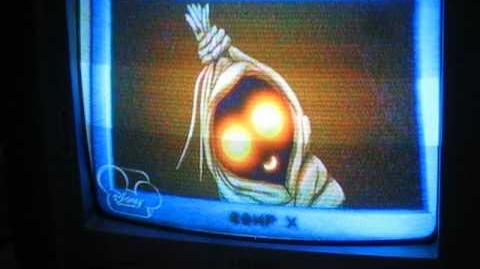 Quotes
Appearances
Information
This game was similar with scary maze that we play it and get surprise in the last.
The picture of the ghost is an Indonesian ghost that call Pocong, and in Malaysia, it call Hantu Bungkus.
Another ghost appeared in Episode 37 but different from Episode 28. It was call as marry ghost that can determine our future. It also appear a ghost that similar to a ghost from the game Plant vs Zombie and the marry ghost.

Gallery
Ad blocker interference detected!
Wikia is a free-to-use site that makes money from advertising. We have a modified experience for viewers using ad blockers

Wikia is not accessible if you've made further modifications. Remove the custom ad blocker rule(s) and the page will load as expected.