The
Thousand Times Jump
is one of
Ying
's Powers.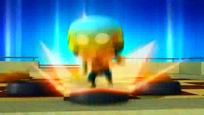 After Tok Aba used the Power of the Squezzed Hen,Ying jumped on one of the Sleeping Monster's pieces to destroy it.
Informations
This is one of Ying's Powers that can project 1000 times, the others are Thousand Times Kick and Thousand Bite Scratches.
Appearances
Ad blocker interference detected!
Wikia is a free-to-use site that makes money from advertising. We have a modified experience for viewers using ad blockers

Wikia is not accessible if you've made further modifications. Remove the custom ad blocker rule(s) and the page will load as expected.