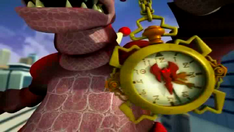 The Sleeping Monster has a special clock which can hypnotize people like BoBoiBoy to fall asleep. In the Malay version, it was called as Jam Tik-Tok Tik-Tok.
At first, BoBoiBoy thought that it was only an ordinary clock, but as the Sleeping Monster waves it side by side, he started to get sleepy but he resisted it when the sleeping monster said something about going to work.
Appearances
Ad blocker interference detected!
Wikia is a free-to-use site that makes money from advertising. We have a modified experience for viewers using ad blockers

Wikia is not accessible if you've made further modifications. Remove the custom ad blocker rule(s) and the page will load as expected.