The Tornado Shield (Pelindung Beliung) is of BoBoiBoy's defending abilities for the BoBoiBoy Wind's element.
Season 1
He used it to defend himself from BoBoiBoy Earth while fightning but they were stopped by Tok Aba by twisting their ears.
It was upgraded to Cyclone Shield.
Informations
In the Disney Channel English version, it is called Hurricane Protector.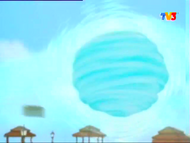 Ad blocker interference detected!
Wikia is a free-to-use site that makes money from advertising. We have a modified experience for viewers using ad blockers

Wikia is not accessible if you've made further modifications. Remove the custom ad blocker rule(s) and the page will load as expected.