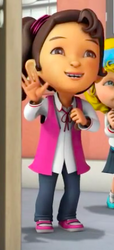 Melody is one of the Rintis Island Primary School students. She has a twin sister named Melissa.
History
She and her sister, along with Amy made a cameo when they are making fun of Fang as a weird boy as Gopal talked with them.
Every time the class starts a lesson, they are not seen in the classroom of 5 Honest, which means that they doesn't belong to that section at all.
Even though she doesn't belong to the 5 Honest class, she and her sister hide in the classroom of the 5 Honest when PETAI made an earthquake and damaged the school.
Appearance
She is as tall as her sister. She is tan skinned, brown eyed, chestnut haired girl. She wears a school uniform which is a white long sleeved blouse with thin red ribbon in it, pink vest that is a little longer than her blouse, a black pants and pink rubber shoes.
Gallery