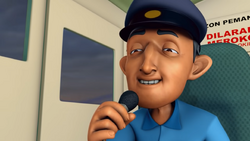 Wahid is a minor character in BoBoiBoy. He first appeared in Season 1, Episode 1.
Overview
Wahid is the driver of the Yong Pin Aerotrain, the name of the train that BoBoiBoy rode to go to Rintis Island, unfortunately he forgot to turn off the microphone when he tried to sing which everyone inside the train including BoBoiBoy heard. He apologized for the sound that everyone heard and he doesn't want his boss to know the incident that happened. His name can be seen when he changed his clothes.
Trivia
If you will watch the very first part of Episode 1 (not including the scene when Super Probe chased BoBoiBoy as it was a sneak peek for the second part), Wahid is the first character appeared in the series.
Its not sure what was the next lyrics he was going to sing.
Ad blocker interference detected!
Wikia is a free-to-use site that makes money from advertising. We have a modified experience for viewers using ad blockers

Wikia is not accessible if you've made further modifications. Remove the custom ad blocker rule(s) and the page will load as expected.