Waibi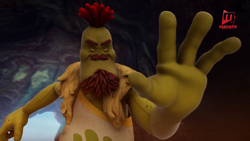 Personal Information
Occupation
Hunter of Kaktoi Tribe
Biological Information
Race
Cactus-like Humanoid Alien
Media
Voiced by
To be announced...
Waibi is a character in BoBoiBoy Galaxy. He is a humanoid-cactus alien who lives in Planet Gurunda along with his family. He first appeared in Episode 4.
Overview
Waibi appeared first in thirst. Ying gave him a cup filled with water. Then he drank it and thanked to BoBoiBoy's Gang. He revealed himself as a hunter, and according to Ochobot, he is native a villager. Then Waibi invited them to visit the Kaktoi tribe and his village. Then Waibi's son stated they are under attack by a monster. To prove that, he told the monster got water from the cacti behind their village but since the cacti was transformed into bubblegum, it became rage to look for some water. When Adu Du was trying to capture Cattus, he and the villagers found out that Gopal was the one had transformed the cactuses into bubblegum when he saved the villagers by transforming Probe's attack into bubblegum. Finally, after Adu Du had been defeated and the gang had found the Power Sphera, Waibi said goodbye and told them that there were still many story to tell.
Trivia
He can tell a story until the end, no matter how long it is, which made people bored and tired.
In one of BoBoiBoy Galaxy Indomilk card, this character called 'Pak Pok Kat'.
In BoBoiBoy Galaxy Card from a snack named Smax, he is named as 'Cattusman'.
See Also