"What is wrong with me?" is a song between Season 1, Episodes 11 & 12, after Gopal had eaten Yaya's Biscuits with Liquid X Solution, he is acting very silly. The sentences that is supposed to be said in normal way became a song. He also used to cheer up his father for having too much money.
Lyrics
Hey Listen Papa please buy me a new exercise book,
because my class teacher said that my book 'looks like Toilet Paper!'
Yaya: Hey what is wrong with you Gopal?
What is wrong with me today?
I have just eaten your biscuits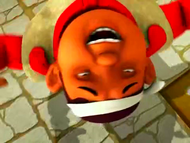 ! oh

Yaya: You must have gotten it from BoBoiBoy right. Where is he?
I don't know, I really don't know oh,
Ying: Huh? Did you guys know? everyone here.. is becoming crazy!
Hey! We're not...crazy!
Ochobot: Oh no no, What's wrong with you, have you gone mad?
I don't know what's really wrong with me..
After I ate Yaya's Biscuits I became like this!
BoBoiBoy Earth/Lightning/Ying: Huh, Yaya's Biscuits!!
Yaya: Yey! Way the go Ochobot, you have solved our problems..
Gopal: Ehhhhhhh! Ehhh...
We don't need a landing yet,
when is about for me my friends!
(Ying get bored)
BoBoiBoy Earth: Hehehehe, Yeah Awesome!
Videos
Malay
English
Episode 23

04:12

BoboiboyBahagian Gopal jadi Gila

01:05

BoBoiBoy What is wrong with Me (Gopal's Song)
Appearances
Ad blocker interference detected!
Wikia is a free-to-use site that makes money from advertising. We have a modified experience for viewers using ad blockers

Wikia is not accessible if you've made further modifications. Remove the custom ad blocker rule(s) and the page will load as expected.