The Whirling Wind (Pusaran Angin) is one of BoBoiBoy Wind's abilities
Overview
Wind conjures up a protective whirlwind around himself to deflect projectiles.
Due to it's basic concept as a defensive move, BoBoiBoy is able to utilize it efficiently, even before evolving into Cyclone.
Notes
In the youtube english version of the series,  Whirling Twister is both known as Wind Attack and Tornado Attack.
It can also be called Pusaran Taufan in Season 2, Episode 9.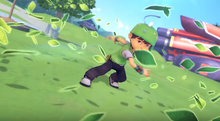 Trivia
In BoBoiBoy Galaxy, BoBoiBoy Leaf uses a similar attack called Leaf Whirlwind which is used in a very similar matter.
In the Youtube English Version of BoBoiBoy, Whirling Wind is also known as Wind Attack, Whirling Twister, and Tornado Attack.

In Season 2, Episode 9, it was known as Purusan Taufan which roughly translates to 'Swirling Hurricane'.
Gallery
Ad blocker interference detected!
Wikia is a free-to-use site that makes money from advertising. We have a modified experience for viewers using ad blockers

Wikia is not accessible if you've made further modifications. Remove the custom ad blocker rule(s) and the page will load as expected.