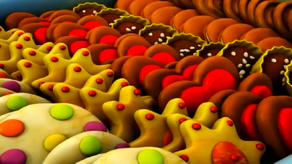 Yaya's Biscuits
is one of foods that appear in
the series
. It's the biscuite that
Yaya
made. The biscuits have horrible tastes which made anyone who ate it would be faint, it's like sandpaper.
History
Yaya's Biscuits are made by Yaya. She learned how to make biscuits from her mother despite her mother's inability to make them. Over time, Yaya created her own biscuits recipe, so it tastes like sandpaper from now on.
Appearance
Yaya's Biscuit first appears in Episode 2, while Gopal is trying to describe Yaya's Biscuits to BoBoiBoy, Yaya suddenly appears which makes Gopal ashamed. She offers BoBoiBoy her biscuits, eventually BoBoiBoy picks one of them. After tasting a half, BoBoiBoy finds her biscuits so terrible.
Yaya asks him how the biscuits was, he unwillingly pays a "compliment" on her. Yaya feels happy that her biscuits had a friend accepted. She offers BoBoiBoy one more but he refuses to eat.
BoBoiBoy throws his half-eaten biscuit away, a cat comes across the biscuit and taste it, after that, the cat faints.
In the preparation for World Biscuits Day, BoBoiBoy Wind helped Yaya by making biscuits which is up to 100 packets but Adu Du and Probe messed it up by tricking BoBoiBoy Wind with the Milk that has a Liquid X. After he distribute it, many people become crazy include him and become uncontrolled and turn to BoBoiBoy Cyclone.
While sleeping, the biscuits came to BoBoiBoy's dreams forcing themselves to eat him, later BoBoiBoy finds out that Ochobot is feeding him after he woke up.
Yaya told the Onion Monster that she often soften onions to make biscuit, which made her friends found out why her biscuits are horrible.
Ingredients (revealed in episode 21)
Fresh Milk from a Local White Goat
Informations
Gallery
Official images
Screenshots
BoBoiBoy